Why you should choose cloud construction management software
Are you a construction firm looking to replace your legacy construction solution? Acumatica's new, complimentary Whitepaper, 5 Undeniable Benefits of Cloud Construction Management Software, provides critical information you need before you make a decision.
The pressure to stay up to date on current projects has been a thorn in the side of many contractors. Poor communication has derailed countless construction projects, causing them to finish late and over budget. The good news is that for construction firms that use the latest technology, communication has never been easier. Just as your field teams need the right tools to complete their construction projects, you need software for managing your projects effectively. Any good solution should enable you to:
• Track costs against budgets.
• View and store important documentation such as RFIs, job site progress photos, and project issues.
• Easily collaborate with field teams, office staff, subs, vendors, and clients.
Cloud construction software allows your team members to log on from anywhere. From their choice of device, they can enter standardized data, site events, labour activities, material costs, and more into a fully searchable database that's updated in real-time. This means no more tracking in separate Excel spreadsheets or disparate systems. It also cuts down on missing information and unnecessary mistakes. As a result, you can run more organized projects, deliver on time, and maximize your profits from every project.
The Whitepaper takes a deep dive into five major benefits of cloud construction software. Here's a quick look at each one.
1. Track projects in real-time
Imagine a solution that handles project management, accounting, payroll, and inventory on one platform. With one unified software solution, project managers can easily track costs compared to budgets, view and store important documentation (such as RFIs, daily field reports and change orders), and collaborate with other users (such as field techs, office staff, and clients). When you connect your accounting and project management teams on one platform, they can track all aspects of a project.
2. Eliminate costly delays
Cloud construction management software can streamline the exchange of information between your teams in the office and out on job sites. When someone uses a mobile app to make changes to items such as RFIs, project issues, or timecards, the system will automatically update and sync this data in the accounting application. When your entire workforce has access to the same information at the same time, you can be sure that important issues will be addressed immediately—before they cause costly delays.
3. Automate workflows to increase collaboration
Cloud construction management software provides workflows that increase collaboration across the entire business. It enables you to:
• Replace multiple steps and eliminate duplicate data entry by automating tasks and processes.
• Ensure that action items will be addressed, and project data will remain current by using intuitive dashboards and alerts.
• Perform accurate, real-time analysis of current projects and intelligent forecasting of future ones by using powerful business intelligence tools.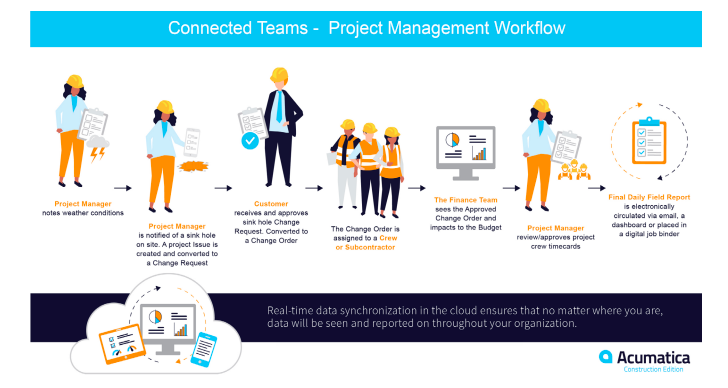 4. Streamline and enhance communication
Successfully turning your daily emails from a confusing clutter of information into streamlined and enhanced forms of communication is possible with the right cloud ERP software and a user-friendly Outlook Add-In.
Users can also centralize storage for drawings, photos, change orders, and any other important documentation that impacts a contract and informs the audit trail. Additional tracking capabilities include a job-specific dashboard and a program dashboard that offers insights into all open projects. This helps team members stay informed of what they need to do next, minimize downtime, and eliminate unnecessary costs and delays.
With cloud construction management software, you can:
Identify issues before they grow
Move projects along efficiently
Minimize downtime
Eliminate costs and delays
Store important documentation centrally
Use job-specific and program dashboards for insight into each project
Being informed and acting proactively can save your construction company a lot of time, effort, and money.
5. Log on anytime, from anywhere
The log on anytime, from anywhere capability found in cloud-based construction and accounting software mobile apps is the difference between an efficient and inefficient business. Cloud ERP technology enables office and field teams to update all project information from wherever they are, guaranteeing swift synchronization of said data so that everyone knows what is happening at all times.
Getting Started with Cloud Construction Management Software
Don't get left behind on yesterday's technology. Take the first step towards a better bottom line today. Acumatica Construction Edition is a complete, native, and cloud-based construction and accounting software solution. This easy-to-use software includes powerful financials, job cost accounting, project management, payroll, inventory, order management, service management, CRM, mobile, and more.