Distribution Edition
Acumatica's specialized distribution management software helps you automate processes and reduce errors in purchasing, order fulfillment, inventory tracking, and customer support.
Manage Inventory

Streamline Sales Orders

Enhance Purchasing

Know Your True costs

Automate Cross-Company Transactions

Matrix Items
Browse Our Most Popular Educational Tools That Will Help You Navigate the ERP Journey
What is ERP - Distribution Management?
Distribution management refers to overseeing the movement of goods from supplier or manufacturer to point of sale. This encompasses many processes including packaging, inventory, warehousing, supply chain and logistics. How effective your distribution management has a direct effect on the financial success and longevity of your business.
Why Choose Acumatica for Distribution Management Software?
Distributors of all sizes face a multitude of similar challenges, including fast-changing customer demands, complicated product inventories, and changes in the supply chain. Overcoming these challenges and thriving in a multi-cloud-based world requires an ERP system Distributors can count on. Acumatica is quickly ascending to the top of the list of wholesale distribution software solutions Distributors are choosing to run their operations.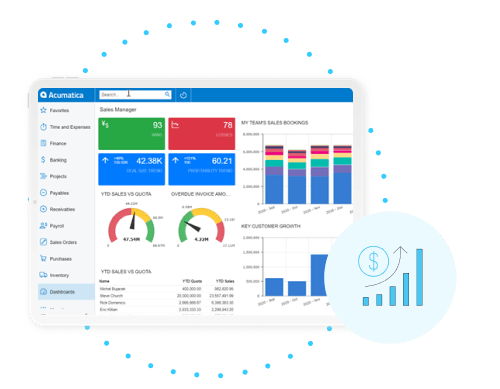 Distribution Edition Applications
Acumatica Cloud ERP Distribution Management Edition helps companies manage all supply chain and logistics activities in one place and connect those activities to financial and sales data. It includes warehouse management, inventory management, and order management (sales and purchase orders).
All modules are fully integrated with your real-time, end-to-end Cloud ERP system.
Purchase Order Management
How to Evaluate and Compare Distribution Management Systems
Differentiating between distribution management systems can feel like an overwhelming, time-consuming task — but it doesn't have to be. As a distributor, you have a lot of options. You just need the tools to see the differences between your prospects and criteria to evaluate how they will impact your business. Here are five categories you can use to measure different systems and evaluate which will work best for you:
Productivity: What can the product do to make you and your staff more productive?
Functionality: What features and functions does the product have that perform the daily accounting and business management functions?
Technology: Does the product leverage technology for usability, customizability and maintainability?
Value: How does the product maximize features and functions vs. cost for the usable lifetime of the product?
Risk: How does the product minimize risk and facilitate security (both network and financial security)?
Compare distribution ERP systems with this free checklist
Selecting an ERP distribution management and accounting system to run your business is a decision that will affect your company for many years. Many products offer the same or similar features, and it can be confusing to sort out what's important and what's not. This tool can help
Download Checklist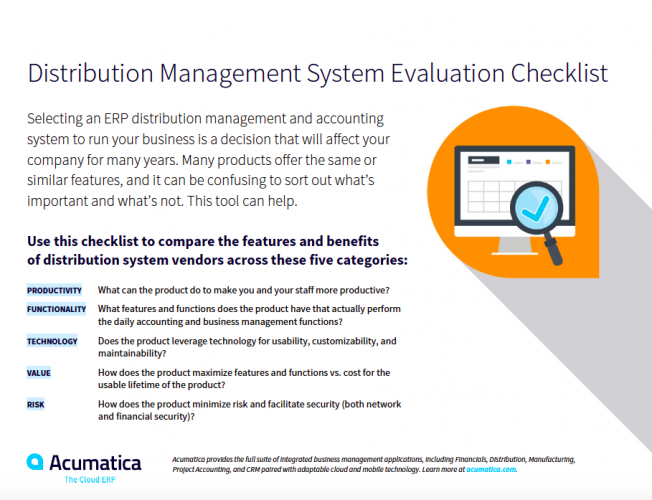 Popular Resources for Distributors
Watch Acumatica Distribution Edition Demos Now!
Complete short form below: