Acumatica Cloud ERP
Product Tour
Access Critical Business Information Anywhere, Anytime
Connect your entire business with an end-to-end cloud ERP solution. Whether you are an online merchant, distributor, manufacturer, contractor, etc., empower your employees with the visibility they need to make game-changing decisions.

Enterprise Resource Planning
If you think of a business like a body, a Cloud-Based ERP solution would be the skeleton. By having one software to help and support all parts of your business, you have created a stable structure for all operations to grow upon. This structure saves you time and money by unifying and streamlining your operations. The brain of this body would be the highly secure (preferable cloud) database of the ERP, where information from all departments is processed, sorted, and stored.
Watch now to learn why Acumatica Cloud ERP is the fastest-growing ERP software in the market.
What is an ERP system?
Simply put, your Cloud ERP Software is customizable which connects the sales, operations and financial aspects of your business. Often your ERP system will replace all of the individual software systems you used previously, but they can also integrate with existing systems.
What's the value in this?
Imagine the impact your business would see if your sales process, order tracking, customer information, inventory, project management, accounting and every other software you used were connected to each other. For the first time ever you can begin streamlining your processes and your business using data from every single department.
Why Would My Company Need An ERP?
Enterprise resource planning software is a flexible and powerful business tool that can take the place of the multiple business applications that are needed when managing a business. Instead of each department requiring its own software, an ERP can perform all these tasks while simplifying the actions that those departments perform every day. Instead of an employee having to learn multiple programs to work in or help different departments, they now only need to understand the various tools of the ERP software. By using the same software for each department's "unique" needs, there will be increased teamwork and communication across the entire business.
Industry Solutions
ERP Solutions Tailored to You
Each industry has a unique set of challenges. To find an ERP solution that is built around your lifestyle, we understand you need more than cloud-technology and mobile functionality. You need a provider that understands and supports the demands of your industry. Acumatica understands that different businesses need individualized solutions, so they offer integrated industry-specific solutions.
Watch the Short Overview Videos to Learn More
Rapid Integrations for Today and Tomorrow
3:39
Superior Usability with Acumatica Cloud ERP
2:58
Mobile Acumatica Cloud ERP
3:12
Distribution Management Overview
3:15
Financial Management Overview
4:53
Manufacturing Edition Overview
2:05
Construction Edition Overview
5:43
Retail-Commerce Overview
6:07
Compare ERP systems with this free checklist.

Selecting an ERP distribution management and accounting system to run your business is a decision that will affect your company for many years. Many products offer the same or similar features, and it can be confusing to sort out what's important and what's not. This tool can help
Compare systems side-by-side across five categories—and then make the right choice.

Selecting an ERP distribution management and accounting system to run your business is a decision that will affect your company for many years. Many products offer the same or similar features, and it can be confusing to sort out what's important and what's not. This tool can help
Download Checklist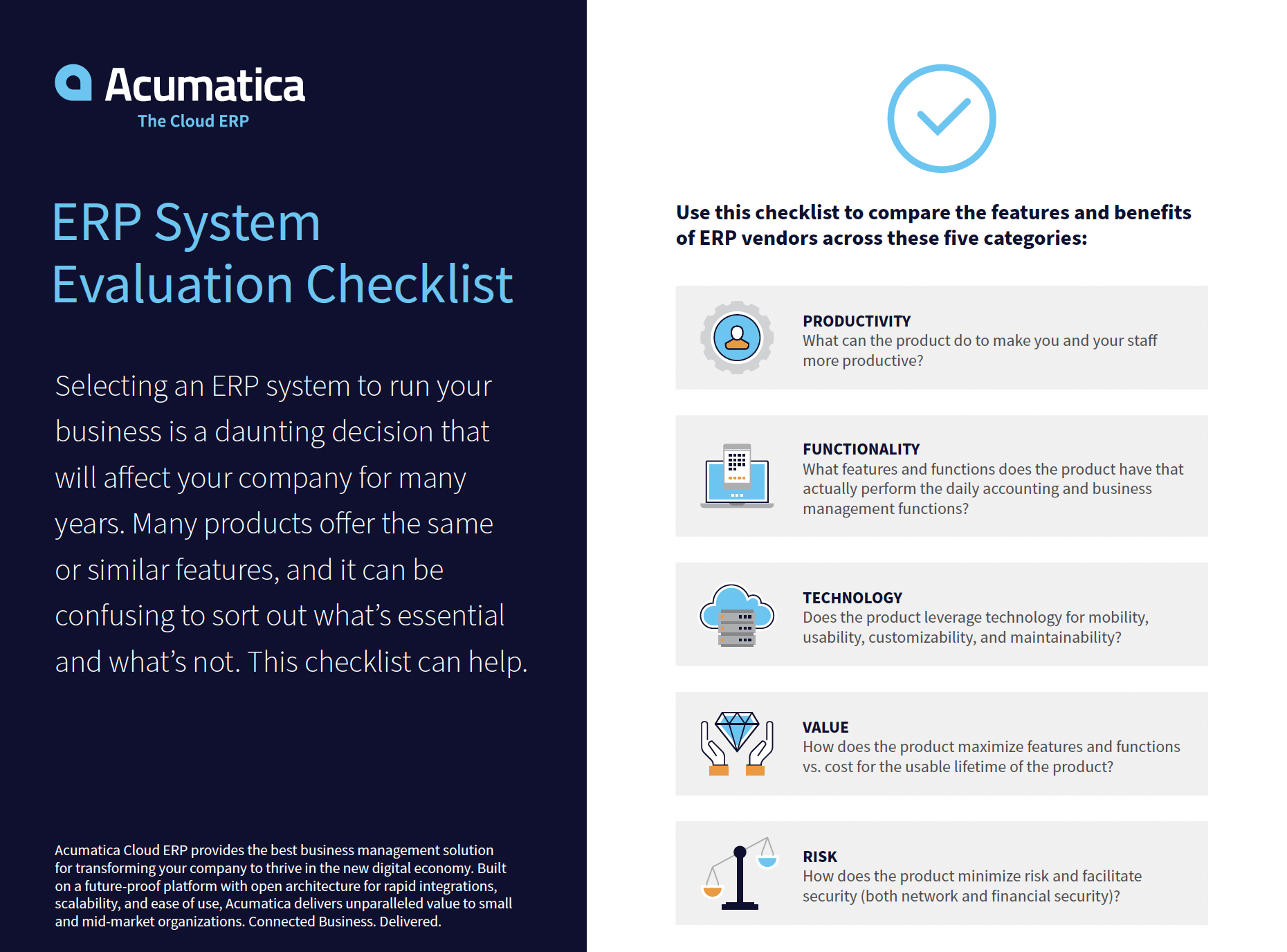 Browse Our Most Popular Educational Tools That Will Help You Navigate the ERP Journey