Cutting-Edge Construction Software
Acumatica Construction Edition is a comprehensive, modern cloud ERP application with built-in CRM and Field Service modules and superior mobile technology that arms construction companies with real-time information through role-based dashboards, powerful business intelligence, and flexible reporting and inquiry capabilities. The user-friendly platform also includes superior compliance management, robust financials, job cost accounting, project and change management, payroll, inventory, and service modules. Dashboard drilldown reports easily identify changes in project scopes, labour, materials, and equipment.
Connect to top-tier construction management software and estimating programs for best-in-class functionality in a single, cohesive platform configured to meet your organization's complex and evolving business needs. Automate routine tasks and improve data processing for accounts payable and other business operations with native artificial intelligence and machine learning. Optimize project material controls and eliminate inventory and purchase order management delays, including dropshipping directly to the job site.
Finding a product that is versatile enough to meet the unique needs of multiple construction disciplines and companies is rarely—if ever—possible. But there is one exception. Acumatica Construction Edition. Download the brochure that provides construction professionals with a quick but informative look at everything Acumatica Construction Edition offers. And it offers a lot.
Connect field, office and remote workers in real-time with cloud and mobile construction and accounting software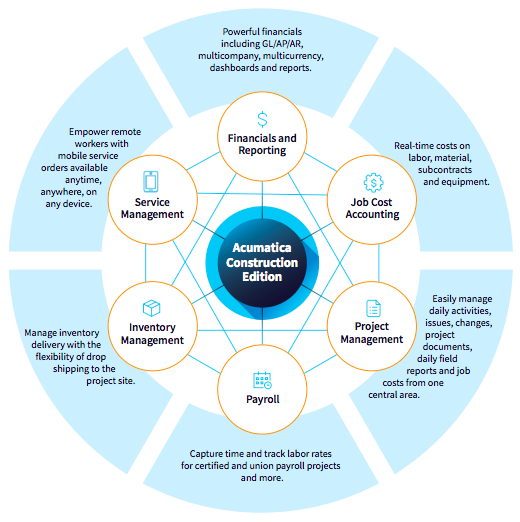 "For me, the biggest benefit is to be anywhere in the world and see what's happening in my business— our overall finances and each job—without having to be in the office looking at paper."

Anderson Pinto, Owner & CEO Hartzell Construction Industry: Renovation, Restoration, and General Building Contractor
A to Z Functionality for Contractors
Organizations in the construction industry navigate a multifaceted and complex business environment that traditional ERP platforms do not wholly serve. Acumatica allows you to grow and evolve your business with a scalable, secure, future-proof mobile cloud platform, an intuitive user interface, and native artificial intelligence and machine learning. Acumatica's all-in-one ERP platform connects every part of your business—from budgeting to project management, purchasing to inventory, and field service to customer management. Automate change order and project issues and communicate with field staff, subcontractors, and vendors in real-time. Gain company-wide visibility of costs, budgets, projects, commitments, schedules, and contracts— allowing for tighter project controls and saving time and money. Modernize construction workflows with real-time task views, CFMA benchmarking, AIA reporting and billing, compliance management, daily field reports, and certified payroll.
Connect the Job Site and Office
The ability for employees and software to communicate effectively and efficiently between the office and job site is critical for the modern construction business. Acumatica's available service and inventory management modules allow organizations to manage projects in a single system from the office or field. Superior mobile technology streamlines job site time entry and expense management. Managers travelling between job sites can access real-time information from their connected device, including mobile dashboards, submittals, drawings, photo logs, daily field reports, and RFIs anywhere, on any device.
An Innovative Cloud Platform Ready for Modern Technologies
The modern construction industry demands an ERP platform that ensures scalability and personalization. The ability to integrate new technologies that facilitate growth without extensive IT costs is essential for construction companies to gain the competitive edge they need to thrive in today's environment.
The Acumatica xRP platform is a versatile architectural framework and application development platform that empowers companies to tailor the software to the way they do business. Acumatica's open architecture provides open APIs, protocols, and tools organizations need to continually incorporate new capabilities into their platform without disrupting other functions. Machine learning and artificial intelligence automate manual tasks and streamline processes. Low-code or no-code development tools let organizations easily incorporate third-party applications and modern technologies into their ecosystem.
Personalized settings promote an intuitive experience for each user. Customizable reports and dashboards put KPIs and deadlines on top of each user's list of priorities. On-the-go mobility enables users to complete their work wherever they are and enjoy the same intuitive experience regardless of the device.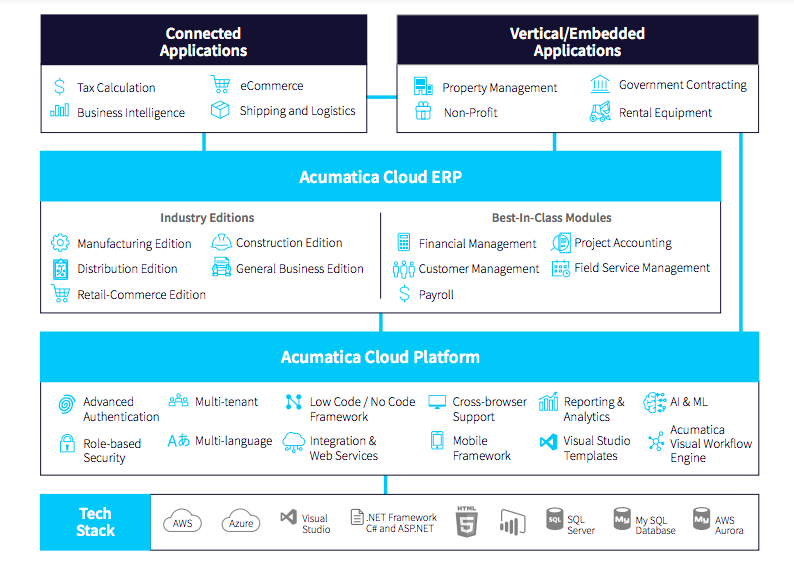 For construction professionals, Acumatica Construction Edition is the construction ERP software. Download the free brochure today to find out more about Acumatica Cloud ERP, a leader in usability, mobility, and value.
In addition, Acumatica was given the 2021 TMCnet Remote Work Pioneer Award for being a top software solution supporting remote work in the wake of the Coronavirus. Acumatica also rates consistently high with Nucleus Research and is a Leader in the G2 Mid-Market Grid Report for ERP Systems. Acumatica maintains a near-perfect Overall User Rating on the Gartner Peer Insights report.