5 Ways Acumatica Makes Remote Work Easier for Your Employees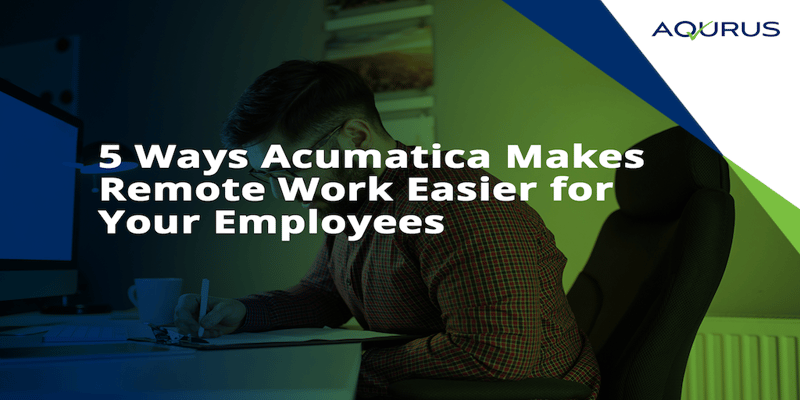 With entire offices or business teams working from home due to the pandemic, tools that make remote work easier are essential — and a complete system that integrates all your business needs is invaluable.
Acumatica Cloud-Based ERP Software helps team members communicate and collaborate with each other and with others outside your organization in real-time, ensuring everyone has secure access to data, files and other information that's needed to keep your business running smoothly.
Whether your employees are temporarily working from home, you've decided to make the shift to remote work permanent, or you employ both on-site and remote teams, Acumatica is designed to help your company operate at its peak. Here's how it can help eliminate a lot of common challenges of remote work.
Making Team Collaboration Easier
Tools that make remote collaboration simple and streamlined have never been more important, and Acumatica makes it easy for employees, partners, clients, suppliers and customers to work together.
Our cloud-based service gives users access to data, files and software from anywhere — all that's needed is access to the web, either through a browser or Acumatica's app. Any updates made in the app are automatically synced, and there's never lag time — once an update is made, it's available to everyone.
The intuitive design of Acumatica and our modern user interface makes it easy for everyone to dive in and get to work with little support needed. (If anyone does need a little help, Acumatica University has lots of free tutorials available for self-led online training.)
Setting up role-based privileges for files, documents and data is easy, allowing you to limit which users can view and edit data and documents. And you can use Acumatica Portals to provide partners, suppliers and customers with 24/7 access to documents, case reporting, account management and more. Not only does this help maintain privacy and confidentiality, it also ensures your proprietary data is protected.
A Robust CRM Helps Teams Share the Load
Many employees are juggling work and family responsibilities such as childcare and supporting kids learning online, and there's always the risk someone will fall ill with COVID-19. So it's crucial for businesses to have a system in place that allows colleagues to step in and provide support as needed.
Our CRM is packed with useful tools and automations to ensure anyone on a team can assist clients, customers or vendors. The consolidated view of customer records is especially helpful when a team member needs to quickly get up to speed on an account or find critical information.
Acumatica also makes client management easier. With full Microsoft Office integration, your sales teams can create new leads directly from their inbox and attach emailed documents to the CRM. Employees can also create multiple quotes in a single opportunity, and sales orders and invoices can be created based on the quote, reducing admin work.
Reduce Your Team's Admin Work With Automated Processes
Acumatica's automated processes reduce the time employees at all levels — from leaders to managers to entry-level staff — spend on admin tasks.
Automatic email notifications can be used to streamline business processes and provide better service. For example, you could automatically let customers or vendors know when orders are ready for delivery or pick-up, when an invoice due date is approaching, or if you're waiting on information from them. Notifications can also be used in a warehouse setting to let staff know shipments are coming in.
You can also automate processes within your business to simplify management. This could include automating IT service requests, CapEx requests and expense report approvals. Meanwhile, our payment application integrations allow payments to automatically apply to invoices, so no one has to spend time matching payments to invoices.
Better Support Your Team with Tools and Resources in the Acumatica App
Acumatica's app is designed to make it possible for employees to get work done anywhere, but it also streamlines a lot of work for all employees, making it a great tool for staff who are working from home right now.
Staff can clock in and out easily with the app's Employee Time Card, review their list of tasks, requests and appointments, and create expense reports by snapping photos of receipts — the app automatically creates expense line items so your staff can focus on important work. Plus, any expenses charged to a business credit card can be automatically added to expense reports.
Managers, meanwhile, can quickly and easily complete approvals for time cards, expenses and sales orders. And they can also use mobile push notifications to let sales teams know about new opportunities.
An added bonus: Employees can pull up dashboards and all other app features on their tablet, offering the functionality of a dual screen set-up when they're working at home.
Keep Everyone Up To Date with Customizable Tools
With employees working from home, it's critical that everyone has access to information in real time. With dashboards, pivot tables and advanced reporting tools, data is automatically available in real time.
Our software includes hundreds of standard operational and financial reports, including warehouse inventory and fulfillment, waste management in manufacturing, your company's financials and more. With these automated reporting tools, employees also spend less time building reports.
What sets Acumatica apart is the simplicity of set-up. We want all of our customers to have customized solutions at their fingertips, so we designed Acumatica to be very user-friendly, requiring little or no coding to set up the various features.
From manufacturing and warehouse management to marketing and sales, Acumatica makes it easy for teams to work together when so many of us are working apart.
Further Reading
Related Posts