COMPETE EFFECTIVELY IN THE DIGITAL ECONOMY WITH A MODERN, CONNECTED ERP PLATFORM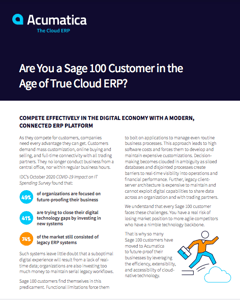 As they compete for customers, companies need every advantage they can get. Customers demand mass customization, online buying and selling, and full-time connectivity with all trading partners. They no longer conduct business from a central office, nor within regular business hours.

IDC's October 2020 COVID-19 Impact on IT Spending Survey found that:
49% of organizations are focused on future-proofing their business
41% are trying to close their digital technology gaps by investing in new systems
74% of the market still consisted of legacy ERP systems
Such systems leave little doubt that a suboptimal digital experience will result from a lack of real-time data; organizations are also investing too much money to maintain serial legacy workflows.
Sage 100 customers find themselves in this predicament. Functional limitations force them to COMPETE EFFECTIVELY IN THE DIGITAL ECONOMY WITH A MODERN, CONNECTED ERP PLATFORM to bolt-on applications to manage even routine business processes. This approach leads to high software costs and forces them to develop and maintain expensive customizations. Decision-making becomes clouded in ambiguity as siloed databases and disjointed processes create barriers to real-time visibility into operations and financial performance. Further, legacy client-server architecture is expensive to maintain and cannot exploit digital capabilities to share data across an organization and with trading partners.
We understand that every Sage 100 customer faces these challenges. You have a real risk of losing market position to more agile competitors who have a nimble technology backbone. That is why so many Sage 100 customers have moved to Acumatica Cloud-Based ERP Systems to future-proof their businesses by leveraging the efficiency, extensibility, and accessibility of cloud-native technology.
What If You Do Nothing and Stay on Sage 100 System for Longer?
Not taking any action is an option for Sage 100 customers, but the consequences are substantial. The delay in evolving your technology backbone increases costs, lowers profitability, and results in customer satisfaction issues. Suppose your ERP software cannot adapt to meet your company's growth initiatives and customer demand to beat your competition. In that case, your company's survival is at risk where more agile competitors quickly offer less expensive products and services with a better customer experience.
Your bloated technology stack and disparate applications are bleeding you dry.
How much money do you waste on custom code, backups, one-off integrations, and manual processes as system workarounds? Retrieving data across disparate databases makes reporting difficult – if not impossible – and limits your business insights, leading to lost opportunities.
Manual and antiquated processes fail to take advantage of new industry standards.
Today's Cloud-Based ERP Software is built for collaboration across the organization and with trading partners. You're missing out on this critical capability to stay competitive in a highly interactive global market.
Enhanced security risks threaten your brand. Security breaches can be catastrophic for a business.
Is your data more secure on your internal servers or on a world-class cloud server managed by companies that specialize in cybersecurity? Does your IT team have visibility into all potential security threats?
Are you staying current on functional enhancements from Sage?
Can you afford to keep compliant and leverage the latest features given the cost of performing manual updates? How far behind the latest version is your Sage 100 deployment?
Set Your Business Up for the Future with Acumatica Cloud ERP
Sage 100 cannot get you where your organization wants to go.
Platform limitations forbid real-time interactions with customers and trading partners.
Functional weaknesses cost you dearly in additional licensing, integrations, customizations, and lost revenue streams.
Sage diverts your annual maintenance fees from Sage 100 to more profitable product lines.
Stop spending time and money on Sage 100. Invest in Acumatica to future-proof your business and realize your company's growth potential.
Eliminate data silos, capture data faster, exceed customer expectations, and gain new insights into every area of your business.
Free up IT resources for proactive projects instead of non-value-added system maintenance.
Empower your entire employee base to contribute to the firm's success and include all your trading partners without penalty.
Penetrate new verticals in expanded geographies with new products, supported by Acumatica's comprehensive, connected capabilities across horizontal and industry sectors.
Feel the power of ubiquitous access to your data and executive dashboards for market-leading responsiveness and improved decision-making.
In short, join the digital economy as an agile participant rather than as a former bystander.
Related Posts