SELECT THE PERFECT ERP SOFTWARE FOR YOUR BUSINESS
There are hundreds of ERP applications available today. Each has strengths and weaknesses. Some are specialized by industry, while others are more general. Some systems work better for smaller retail stores and eCommerce companies, while others scale up for the largest big-box retailers and commercial powerhouses.
Legacy ERP applications provide robust features built on aging platforms that are challenging to integrate with modern business technologies. Newer cloud products designed for greater connectivity provide a modern platform for growth with streamlined features that offer simplicity, flexibility, extensibility, and mobility.
Before going any further, there are two definitions to clarify: retail and eCommerce. Retail establishments engage one or more sales channels (including eCommerce) for selling to end-users and consumers. eCommerce activities focus on selling and buying through a single channel (online) by organizations (retailers, distributors, manufacturers, governments) and individuals (proprietors and consumers). Many retailers also conduct eCommerce—they are not exclusive of one another.
Both environments require similar accounting, inventory management, purchasing, and CRM features. However, each demands distinct order management functionality. Acumatica is one of the few ERP systems supporting retail and eCommerce process needs on a common platform.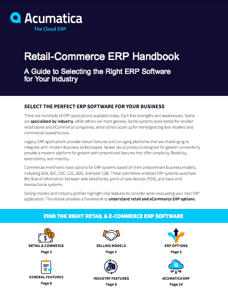 Many companies choose their ERP based on features, modules, or platform technology. eCommerce and retail businesses like yours have to think harder. Yes, all of the above considerations are important to you, but you also must consider how well each solution will support your specific sales channels.
In this handbook, you'll discover:
The

six common

selling models

that can impact ERP needs.
How a

retail ERP

can differ from an

eCommerce ERP.
Which

standard features

to expect no matter what.
How vendors augment their systems with

industry-specific functionality.
Acumatica's approach

to

Retail

and eCommerce

ERP.
ACUMATICA IS TRUSTED BY COMPANIES ACROSS MANY DIFFERENT INDUSTRIES. HEAR HOW THESE CUSTOMERS SUCCESSFULLY IMPLEMENTED ACUMATICA CLOUD ERP AND ACCELERATED THEIR BUSINESSES.
APPAREL & FOOTWEAR PRODUCTS

"Every time inventory is moved, the transfer is documented, which allows us to have tighter control over where the product is and how much wehave, which has helped with shrinkage and quality control. Because we cansell in real time, we can sell with lower buffers and sell through inventorywith less overstocking."

- THOMAS FINNEY, IT DIRECTOR

SHOEBACCA

HOME GOODS

"We're in this era of, you buy something online, you want it at your doorstep the next day. Because our inventory is tied to our eCommerce site, a customer can now see what's available and be able to predict when they're actually going to have it in their house and ready to use."

- AMANDA DATTE, CFO

CLIVE COFFEE
ACUMATICA RETAIL-COMMERCE EDITION
Retail and eCommerce ERP— The Acumatica Way
Acumatica provides ease of use and rapid integrations to web storefronts such as Shopify and BigCommerce without needing additional software.
Acumatica Cloud ERP provides the best business and industry management solution for transforming your business to thrive in the new digital economy.
Related Posts